To the Members of WaterhouseTips.com:
In our first year, the WaterhouseTips.com Gold Package has delivered 1,295.2 units profit, a 18.6% profit on turnover and a 129.5% return on investment*. Please see the contents of the letter below for a detailed analysis and my thoughts on the year's performance.
The year in review
I started the tipping service a year ago with one goal in mind – to help members become better bettors. The Gold Package was launched as the flagship subscription with a simple pitch: Receive all my tips on a Saturday with a recommended bankroll and staking plan – a blueprint for the day's betting exactly how I've been doing it for over 18 years.
To prove my confidence in the Gold Package tips, I included a Money Back Guarantee on the subscription fee, designed to give you confidence in your investment.
I plan to be in this business for at least the next decade, and it's only going to be successful if the tips win over the long-term.
I'm happy to report that we're on track.
OUR APPROACH
My Grandfather Bill, my Dad Rob and I have seen punters win using a variety of methods throughout our bookmaking careers.
For us though, we've focused on the same methods of form study throughout this time, disregarding the noise of mainstream racing commentary. Instead, focusing on rigorous data collection and factor analysis, including weight, time and pace handicaps.
This brings me to the one fundamental truth about winning on the punt. Calculate what you believe to be the true probability of a horse winning a race. Translate this probability to 'true odds'. Only place a bet when the odds are in your favour.
My family have been doing it for a long time and we're living proof it works.
In WaterhouseTips.com's first year we've had losing days, weeks and months, but over the long-term the performance speaks for itself.
​As per Table 1, a punter who invested $10,000 in their initial bankroll for the Gold Package, religiously followed the staking plan and took the top price, would now be sitting on $22,950.For members to have had the opportunity to more than double their money in one year is extraordinary.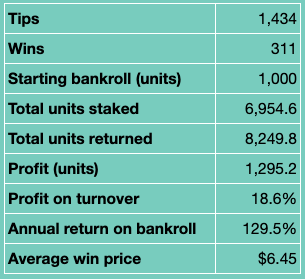 The return and profit figures are calculated using the best prices bet by Australian corporate bookies after the tips are sent to members. Note that we haven't recorded if a better price was available with the on-course bookmakers or exchanges, which is often the case.
I understand replicating the tips and staking plan from every email since inception is very difficult, especially if you're new to the game. This is the reality of what it takes to win on the punt.
The top price is a benchmark of what was out there and what you should be aiming for. But with the results we've achieved, there's plenty of leeway for not achieving the top price every time and still making a profit.
Figure 1 below will give you an idea of how members would perform by taking the top price for each selection at the time the tips were sent out, instead of monitoring the market and betting throughout the day.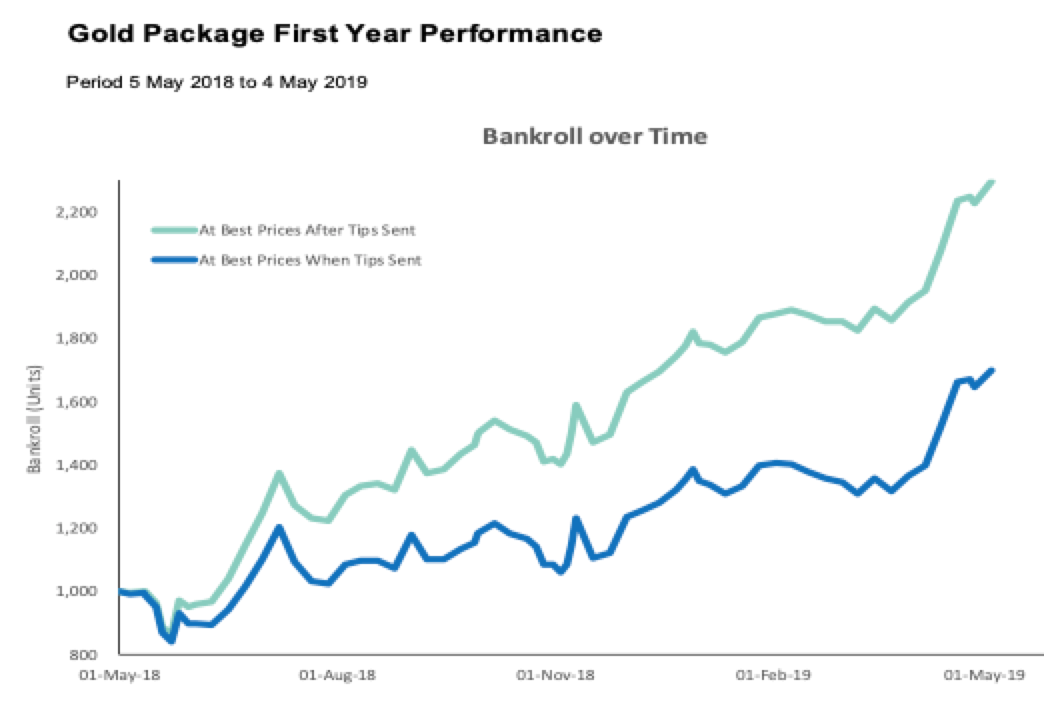 Gold is up 698.6 units using the best prices available when the tips were sent to members. That gives a 10.0% profit on turnover and 69.9% return on investment. This is compared with 18.6% POT and 129.5% ROI at the best prices after tips were sent.
If you'd like to know how I get on at the top price, please get in touch and I'll share with you some rules-of-thumb.
OUR CHANGING INDUSTRY
Before continuing with the Gold Package performance, I wanted to touch on the changes to the betting market and how it affects members.
The Point Of Consumption (POC) Tax has been an additional burden to operators that has forced them to offer worse odds to compensate. In other words, the 'betting market percentage' or the 'bookmaker over-round' has increased, meaning the bookies set the odds so they have more of an edge in their favour.
On top of this, the racing bodies changed the way each State's Official Price (OP) is calculated. Whereas they used to include prices offered by the on-course operators, they now exclusively use the prices of a select few corporates (despite the fact the on-course bookies consistently offer better prices).
This has made products such as Top Fluc (and therefore Best of the Best) significantly less appealing than a year ago, because they've removed the bookies offering better odds from the calculation of the Top Fluc dividend.
This is why I've encouraged members from the beginning to focus on the fixed odds market. There's never been more inaccuracies in the betting markets than what I see today, and the fact that bookies are putting up higher and higher market percentages only confirms this.
My Grandfather Bill always says that you can find more mistakes by the bookies in a 160% market than a 105% market – if you had any idea what you are doing, why would need so much percentage in your favour?
The Gold Package results above, at both the tipped price and best fixed price, show there are still plenty of errors that we're consistently taking advantage of.
DISCIPLINE IS KEY
An equally important skill to getting the top price is the discipline to stick to the staking plan through the ups and downs.
There's always a tendency to chase if you're losing, or bet smaller to 'protect your winnings' when you're on a good run. The hard (and correct) thing to do is just treat every race on its merits.
As you'll see in Table 2 below, on a month-to-month basis the results can be volatile, both positively and negatively. Over the long-run however, if we consistently stick to the staking plan, the bookies will find us very hard to beat.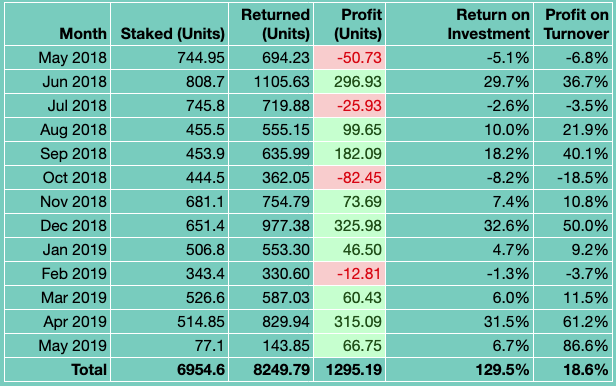 To give an idea of a good and bad period, it's worthwhile reflecting on Spring 2018. October was our worst month with losses on most betting days, and only one Best Bet getting up over the month.
However, Melbourne Cup Day was the turning point. Within the first 10 days of November we won everything we'd been down in October, plus more.
In fact, three of our top 15 wins for the whole year came during a one-week period in early November, handsomely rewarding punters who stuck it out with me through a tough month prior.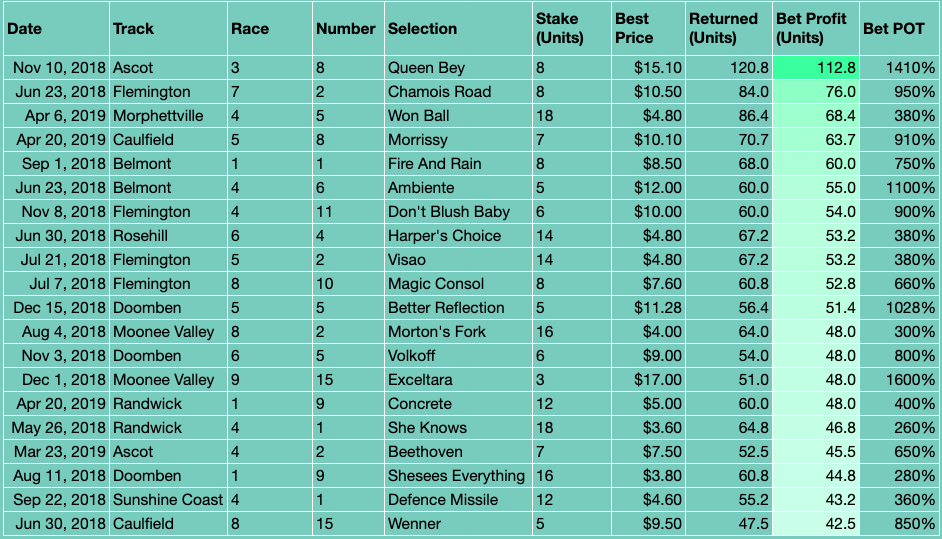 December was our best-performing month with over 300 units profit. This shows how big a good run can be.
Further, the average price of Gold winners is $6.45 meaning that by limiting our losses in down periods by sticking to the staking plan, we have large winning days when the winners come.
If it was a smooth run it would be much easier to stomach. But unfortunately, punting doesn't go like that.
Legendary punter Phil Bull said that his four biggest winning days each year account for what he'll win on the year. That means most days will cancel each other out, and you'll be left with the profit from (roughly) your four biggest days.
We've had and will continue to have some massive days with some tough ones in between. That's why bankroll management and appropriate staking is so important.

STICKING IT OUT THROUGH THE TOUGH PERIODS
For members who joined and left in one of the tough months, certain facts in this letter will be tough to stomach.
And that's fair enough. If you joined at the beginning of October, as the Spring racing starts to get going, you would have lost approximately 80 units of your 1,000 unit Gold Package bankroll, or 8% of your investment. Not an easy experience.
This begs the question – how would a new subscriber gain the confidence to stick it out during a losing period?
One metric favoured by pro punters is comparing the price of the selections when they're sent out versus the Starting Price (SP), i.e. the Official Price of the horse at jump time.
Why is the SP important?
In horse racing, the SP is generally a good proxy for the true winning chances (i.e. probability) of horses. Leading up to the jump time, information from various sources and bets placed by full-time punters and big syndicates is reflected in the market price.
By consistently exploiting situations where bookies are betting 'over-the-odds' and achieving such an advantage before the market reflects all information, a wagering system is highly likely to be profitable in the long term.
THE NEXT YEAR
This next year will be an even bigger one for WaterhouseTips.com members.
The release of a new app will make it easier for members to follow the tips and place their bets. Stay tuned for the coming release!
I hope you found this year's Gold Package Annual Letter insightful. Please let me know any thoughts or questions you have by emailing me or contacting us via the website.

* All performance statistics, tables and figures are accurate as at 8th May 2019 ** Source: RWWA Note: The cost of membership is not counted in results recording as different members will have different unit values, e.g. $1 per unit minus subscription fee will have a different result to $100 per unit minus subscription fee.